There are two ways to approach health problems: from the point of view of diseases and from the point of view of health.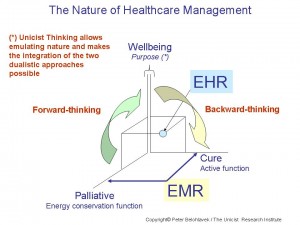 The Electronic Medical Record (EMR) is a system to organize, monitor and control the evolution of the medical practice. Although its purpose can be extended to monitor the health of a patient, its origin is implicit in its name. The system was not designed to monitor health just to monitor diseases.
On the other hand, the Electronic Health Record (EHR) is an approach from the point of view of the wellbeing of the individual, who in fact is not a patient, but becomes one from time to time.
Integrating both aspects is a challenge that changes the paradigms of information technology in healthcare.
The object driven approach to medical cybernetics allows integrating both approaches in their oneness, integrating the two faces of the coin, widening the possibilities of improving the quality of life of the community.
It allows taking advantage of EMR and EHR applications integrating them in order to increase the value for all and, above all, improve the wellbeing of the population.