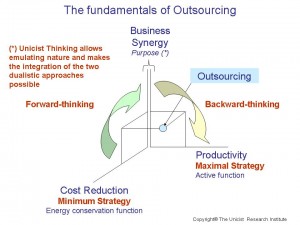 Outsourcing in Healthcare is basic to achieve synergy between medical ethics, patients' needs and economic feasibility.
The Unicist Standard in Outsourcing implies integrating Object Driven Organization, which is analogous to object oriented programming, with the specific characteristics of the processes involved. It requires integrating hardware, software and peopleware in a process design that allows developing improvements based on the upgrade of the objects involved in the processes.
Basically there are two types of outsourcing: expert and operational outsourcing.
Expert outsourcing is a synergic cooperative operation to increase productivity and reduce costs based on specialization and quality.
Operational outsourcing is a way to reduce costs without endangering the core business.
Access a free e-book on "Outsourcing & Insourcing" at our Library: http://ucuweston.org/Library
The recommendation is to define to outsource when it is convenient and to insource when it is necessary. But when outsourcing has been decided it is necessary to make a deep reflection to define which type of outsourcing should be done.