The ontology of consciousness to deal with personal development was discovered after 35 years of research at The Unicist Research Institute.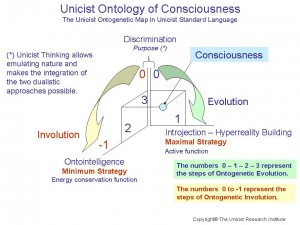 The research was led by Peter Belohlavek and the final confirmation process included participants in the United States, Germany and Argentina.
This knowledge allows helping people to expand their possibilities avoiding the esoteric, rationalistic and subjectivistic approaches. It also allows defining the limits of these possibilities.
We would like to acknowledge the Universität Heidelberg and the University of Minnesota for their empirical and physiologic researches in this field.
This establishes a new starting point to deal with human behavior. A book on this subject will be published in December 2011.
NOTE: The Unicist Research Institute was the pioneer in complexity science research and became the major research organization in the world in the field of human adaptive systems. More than 4,000 unicist ontological researches were developed since 1976 until July 2011 in the field of individual, institutional and social evolution. They included the development of the unicist ontogenetic maps (DNA) of institutions.